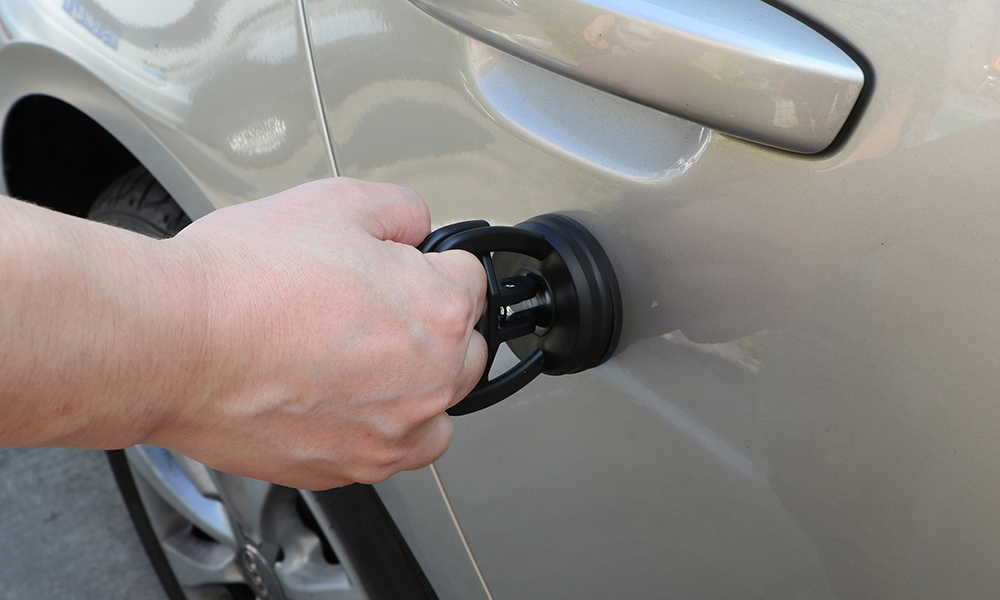 Do car dent pullers really work?
Published on 26 April 2021
What is a Car Dent Puller?
A car dent puller is used to remove dents from the bodywork of a car and to straighten out car metal.
There are two primary types of pullers:
1. Glue dent pullers
A glue dent puller comes as part of a kit. The idea is to glue on a flat pulling tab fitted with a screw over the dent. Then, twisting the handle, pull the tab up and it will come off the car, pulling the dent with it.
2. Suction dent pullers
A suction dent puller functions in a similar fashion to a plunger in that you plug it to the dent on the car and pull.
IMPORTANT: Never use a puller kit that asks you to drill holes into your vehicle to rectify a dent.
How does a Car Dent Puller work?
You should always refer closely to the instructions included with the DIY dent puller kit in as there are often differences between sets.
Using a Suction Dent Puller
Moisten the surface of the suction puller before attaching to the vehicle.
If dealing with a small dent, attach the puller to the dent's centre.
If dealing with a larger dent, pull at the dent's edges, working your way to the centre.
Once the suction dent puller is attached to the vehicle, pull it vertically towards you.
TIP: Rather than doing one big tug, perform smaller pulses.
Using a Glue Dent Puller
Select the most appropriately sized pulling tab that will cover the dent.
Heat up the glue gun and apply glue to the bottom of the pulling tab.
Stick the pulling tab against the dent carefully and with not much force.
Leave the glue to set for a few minutes.
Attach the dent puller to the pulling tab and pull the tab away from the vehicle with small, speedy gestures.
If the pulling tab comes off and the dent is still there, complete the process again.
Pulling the dent too far can result in raised areas but this can be carefully patted down with a rubber mallet if necessary.
Do car dent pullers actually work?
Car dent pullers will only do their designed job if used on a flat surface. They can help to enhance the aesthetic appearance of the dent but most likely will not provide a flawless finish.
Note: car dent pullers do not work on deep, angular-shaped dents or edges.
Can I use a DIY car dent puller at home?
There are pros and cons to using DIY dent pulling kits. They can allow more autonomy when it comes to your car maintenance but at the cost of a more risky, more tricky and more laborious task.
The advantages of a DIY dent puller
1. It can be a cheaper short-term alternative
DIY dent pulling kits can be a cheaper short-term solution to fixing dents if you are in a hurry and aren't bothered about having a professional finish.
2. You don't have to be without a car
You don't need to leave your car while it is being repaired.
3. You have autonomy over your car repair
As you will be performing your own DIY fix, you have control over what happens to your vehicle.
The disadvantages of a DIY dent puller
1. Lack of experience makes using the kit more difficult and can be very time-consuming
Although the idea of performing your own DIY fix may be appealing, trying to perform such a task without previous experience can result in disaster.
It can also take up a lot more of your time, potentially with no guaranteed results.
2. A DIY dent pulling kit will not produce a perfect finish
You have to be aware of the fact that using a DIY dent pulling kit will not provide professional high-quality results after usage.
3. You can end up worsening the damage
Combined with a lack of professional expertise or experience, enhancing the damage on the car is more likely to happen than enhancing its aesthetic.
4. A dent puller cannot be used on a paintwork damaged area
If you want to use the dent puller on an area that already has paintwork damage, this will worsen the damage. It cannot be used on damaged paint.
The Risks
Removing a car dent properly is not a quick-fix. It requires careful attention by specialists to ensure that further damage is not inflicted and the process can be carried out as safely as possible.
Taking matters into your own hands poses the risk of danger to yourself and also the potential of making the problem worse; eventually leading to you seeking professional help anyway.
Our Advice
We advise that you always seek professional service when it comes to any form of car maintenance and repair.
When it comes to larger dents in particular and large dents with paintwork damage, we urge you to take your car to a car dent specialist team.
Our Dent Repair Services
We offer a range of dent repair services to offer a quick fix but efficient and high-quality service to those in need.
Our expert team is expertly trained to handle all manner of car repair requirements and we can take the responsibility of trying to fix it yourself away whilst also ensuring that you get your car back in no time at all.
To find out more information about our dent repair services, click here or to contact us and a friendly member of our team will be happy to help.