Mobile car scratch repair
Mobile car scratch repair near me
It's so frustrating when we find the sleek paintwork of our car has been spoiled by a scratch but it happens to the best of us – even the most cautious of drivers.
It doesn't matter how they got there, they need to get fixed up ASAP. If left, scratches can be vulnerable to rust and if you hadn't thought the aesthetic was ruined now, it certainly will be then!
Mendadent offer a specialist mobile car scratch repair service using advanced repair techniques. Read on to find out more information about our mobile car scratch repair service or you can book a repair today and we'll send someone out to help.
Our mobile car scratch repair services
At Mendandent we offer a range of high quality mobile car scratch repair services to restore your car to its former glory.
Our car scratch repair services include:
SMART car scratch repair
Mendadent use a specialist SMART technique for car accident repairs. SMART stands for Small to Medium Area Repair Technology.
By using the SMART technique, we focus on fixing the problem area rather than the whole thing and in doing so, we blend the repair into the rest of the areas so that it doesn't stand out.
For car damage, we understand that trying to get to repair centres can be a hassle but our mobile car scratch repair service means that we can come to you wherever and whenever you need us. See below for areas we cover to find out if we service in your area or book a scratch repair today.
Professional colour match
We will make sure that your paintwork is restored to pristine condition by using a specialist technique to achieve a perfect colour match using your unique colour code. When we're finished, it will be as if the scratch never existed.
Areas we cover
Based in Leigh, Mendadent offer specialist car body repair and refurbishment services to the surrounding areas of Greater Manchester.
If your area is on the list, contact us today to get a quote.
Manchester
Wigan
Leigh
Bolton
Salford
Oldham
Bury
Rochdale
Atherton
Westhoughton
Cuchelth
Lowton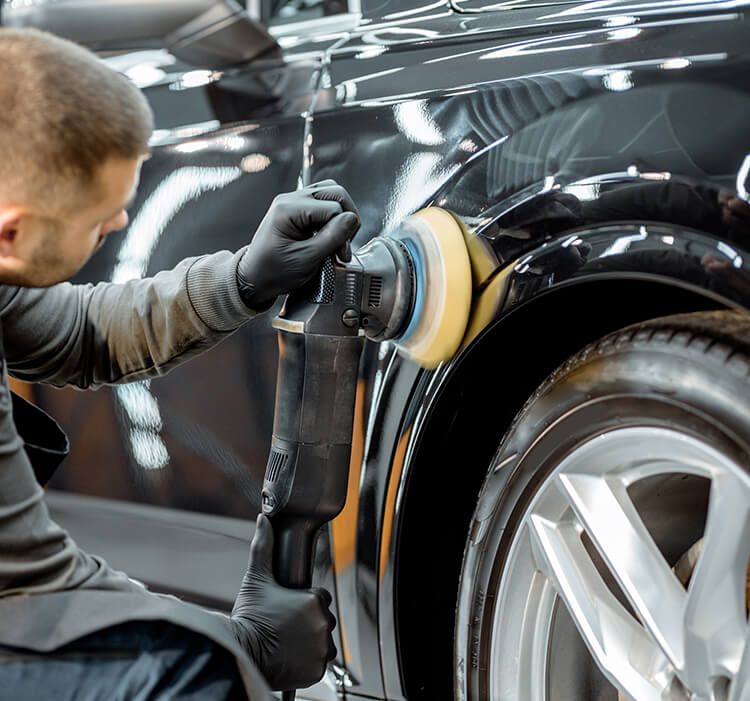 Why choose Mendadent?
At Mendadent, we are a specialist automotive repair and wheel refurbishment company based in Greater Manchester. With a skilled team of professional repair technicians on hand to repair, we will refurbish and revitalise your vehicle.
We understand how stressful and frustrating it can be to deal with damage to your car; whether it be a result of vandalism or accidents on the road. We also know that sometimes it just isn't possible to get to a service station and trying to organise for a repair can be tricky and inconvenient.
This is why at Mendadent, we offer mobile repair services at affordable rates to work around your schedule and no one else's. If you need help, we come to you.
If you are looking for a cost-effective, premium quality car body repair or refurbishment service, contact us to get a quote or you can book a repair online.
Alternatively, you can call us on 01942 669 212 and a member of our team will be happy to advise as well as answer any queries you have.
Frequently Asked Questions
SMART repair is a technique that allows technicians to focus on one localised area of damage rather than trying to unnecessarily fix the entire vehicle. This makes repairs a lot quicker and convenient. To find out more information about our smart repair services, contact us.
Using a variety of SMART and specialist techniques, our expert technicians will assess the scratch and using advanced equipment, restore the paintwork to its original condition. For more information about our car scratch repair service, contact us.
After the repair, we advise that you wait five days before washing or polishing your car to give the paint time to cure.
It is important to get your car scratches fixed as soon as possible to protect your car from more damage as it will be exposed to corrosion and the longer you leave it, the more expensive repairs are likely to be down the line.