Mobile car dent repair near me
There is nothing more frustrating than examining your car and finding a dent in the car door or a damaged panel.
Cars get dents and it happens to even the most cautious of drivers. You cannot anticipate reckless drivers on the roads or unexpected items hitting your vehicle, and sometimes accidents just happen.
If you are the unfortunate owner of a dented vehicle, Mendadent are a specialist auto body shop offering professional dent removal services to restore your car to its original shape.
Read on to find out more information about our mobile dent repair service or you can book a repair today and we'll send someone out to help.
Our mobile dent repair services
At Mendadent, our specialist automotive and PDR technicians offer a range of high quality SMART mobile car dent repair services to restore your car to its former glory.
Our dent repair services include:
Mobile SMART dent repair
Mendadent uses a specialist SMART technique for car accident repairs. SMART stands for Small to Medium Area Repair Technology.
By using the SMART technique, we focus on fixing the problem area rather than the whole thing and in doing so, we blend the repair into the rest of the areas so that it doesn't stand out.
For dings, round dents or creases, our mobile SMART dent repair process means that we can come to you wherever and whenever you need us. See below for areas we cover to find out if we service in your area or book a repair today.
Paintless dent removal (PDR)
Paintless dent removal (PDR) is a technique of removing dents, creases and dings from vehicle panels and as the name suggests, does not require paint.
Using specialist tools and advanced techniques, our technicians use PDR to remove dents from affected areas and leave your car looking brand new.
Round dent removal
Round dents are one of the most common dents found on the car body and are usually caused by something coming into direct contact with it, for instance, debris.
Round dents are also one of the easiest dents to fix as the paint around the dent tends to remain intact and will not require re-painting.
Ding removal
The difference between a ding and a dent is that a ding is smaller than a dent and often only has a diameter of ½ inch. Dings are usually caused by minor impacts such as rocks and stones, or the car door knocking into something as it opens.
Even if the ding isn't that noticeable, it is still important to get it fixed because it can leave the car exposed to rusting.
Crease removal
Creased dents are a nuisance because rather than a specific localised damaged area, creases can warp an entire car body and can come in a range of different shapes and diameters.
Creases are generally found on the side panels of cars. Creases in cars can be imprinted by handlebars of bikes, car doors, low tree branches and more.
Our PDR technicians can help to restore the metal to its original shape without causing damage to the paintwork on the surface.
Our mobile dent repair service means that we can come to you wherever and whenever you need us. See below for areas we cover to find out if we service in your area or book a PDR repair today.
Areas we cover
Based in Leigh, Mendadent offer specialist car body repair and refurbishment services to the surrounding areas of Greater Manchester.
If your area is on the list, contact us today to get a quote.
Manchester
Wigan
Leigh
Bolton
Salford
Oldham
Bury
Rochdale
Atherton
Westhoughton
Cuchelth
Lowton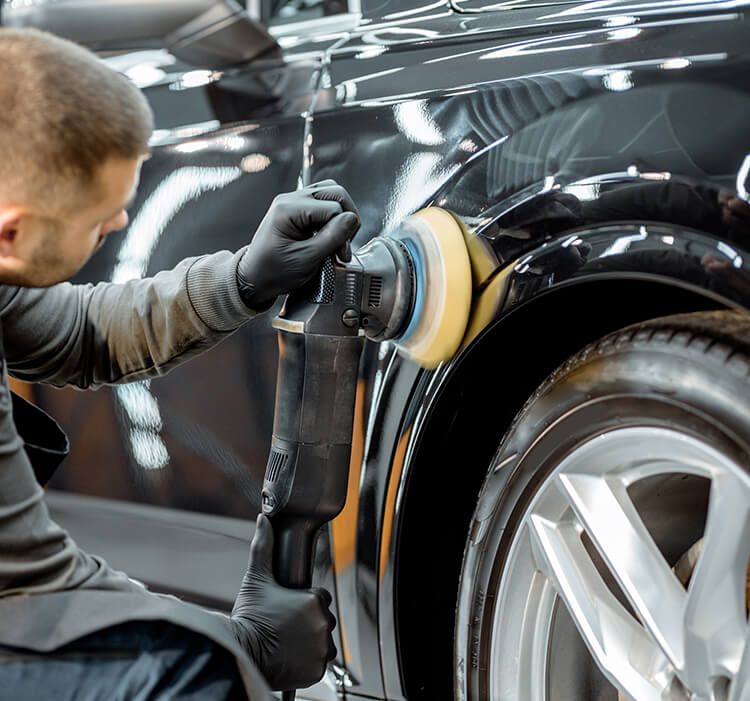 Why choose Mendadent?
At Mendadent, we are a specialist automotive repair and wheel refurbishment company based in Greater Manchester. With a skilled team of professional repair technicians on hand to repair, we will refurbish and revitalise your vehicle.
We understand how stressful and frustrating it can be to deal with damage to your car; whether it be a result of vandalism or accidents on the road. We also know that sometimes it just isn't possible to get to a service station and trying to organise for a repair can be tricky and inconvenient.
This is why at Mendadent, we offer mobile repair services at affordable rates to work around your schedule and no one else's. If you need help, we come to you.
If you are looking for a cost-effective, premium quality car body repair or refurbishment service, contact us to get a quote or you can book a repair online.
Alternatively, you can call us on 01942 669 212 and a member of our team will be happy to advise as well as answer any queries you have.
Frequently Asked Questions
Mendadent uses a specialist SMART technique to and any paintwork damage will be fixed along with the dent.
Mendadent offer mobile car repair services, meaning that our technicians can complete repairs around your schedule and at a place that suits you. For more information about our mobile repair services, get in touch.
We would advise that if you suspect your car has sustained any form of damage, you seek professional assistance rather than trying to fix it yourself.
DIY removal kits can be handy for a cheap, quick fix but ultimately will not achieve a perfect finish and if it goes wrong, you may have to spend more money on getting a repair.
Using the SMART repair technique, our technicians can have your dent fixed up within just a few hours. At Mendadent, we aim to maximise efficiency and minimise inconvenience. For more information about our dent repairs, contact us.